Startup Weekend CDO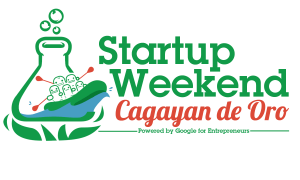 STARTUP WEEKEND EVENT REPORT
Before reading the details below, you can download a PDF copy of the report with event photos HERE.
==============================
Event Date: July 11-13, 2014
Event Organizers: CDO ICT Business Council, Developers Connect, Ideaspace, TechTalks.ph, and the DOST-ICTO
On July 11-13, 2014 at Capitol University the first ever Startup Weekend Cagayan de Oro welcomed everyone to join, pitch their ideas, form teams and compete against other teams. This event was organized by the CDO ICT Business Council, Developers Connect, Ideaspace, TechTalks.ph, and the DOST-ICTO. Ms. Dulce Rose Lada, Co-Founder, CEO and Creative Head of Crea8tech Solutions also helped facilitate the event.
It's great to note that facilitators, guests and organizers who have been to previous Startup Weekend activities expressed their positive feedback on the venue – Capitol University Mini Theater. They called it the "best Startup Weekend venue so far".
There was an expected number of 155 participants who registered online via this link:
https://www.eventbrite.com/e/cagayan-de-oro-startup-weekend-july-2014-registration-11496738053
On the actual registration at 5:00PM on July 11, 86 out of the 155 attended the event. Among those 86 participants, there were 8 who opted for walk-in registration.

Day 1 (July 11, 2014)
The first day of SWCdeO centered around the Pitch Fire held in the Mini Theater of Capitol University, where the participants proposed their ideas to the audience and to other participants. During the Pitch Fire there were a total of 34 pitches.
Participants then voted on these 34 pitches. After voting, 14 out of the 34 pitches were selected to proceed to present a final pitch on the 3rd day.
These were the following 14 pitches/teams that worked throughout the event:
1. Cioftru
2. Cloud Infrastructure Services
3. Lugaw Express
4. Local Search Engine
5. We the Product
6. Fastlane
7. Billing Through Cloud Tech.
8. Teacher Soft
9. Touriffic App
10. Secure Deals
11. Abroad Na
12. Kagayan Appventure
13. Notification Plus
14. Online Grocery

Day 2 (July 12, 2014)
78 out of the 86 participants proceeded to the Second Day where the 14 teams worked on their startup ideas at the AVR rooms of Capitol University. This was also the designated day that the participants scheduled a consultation with the following SWCdeO mentors.
Tina Amper (Business and Analysis): Founder, TechTalks.ph
Raymundo Reyes (Business and Analysis): Executive Vice President, Cagayan de Oro College-Phinma
Jeedo Aquino in place of Gus Rodano (Marketing): Chief Finance Officer, RedLemon Digital Media
Ferdie Macatangay (Business): Country Channels Manager, SWG at IBM
Dan Albert Pacquiao (Developer): Vice President, Cleversoft, Inc.
Lionel Amarado (Developer): General Manager, Innovuze Solutions, Inc.
Marvin Consuegra (Designer): Designer, Lightning Web Apps
Eric Clark Su (Designer): Co-founder/CEO, Twidl Inc.

Day 3 (July 13, 2014)
On the Third Day the participants practiced their pitches in front of the mentors and had the rest of the day until 6PM to polish their presentations. In was on this day where only 12 of the 14 teams pitched, since other teams decided to merge. Moreover, other teams also decided to change the name of their products.
Here is the final list of the 12 teams who did their practice pitch:
1. Cioftru to Ideacamp – a crowdfunding website for Filipino campaigns
2. Cloud Infrastructure Services to Zest Oh and later in the final pitch to Zayd – an online store for Muslim products
3. Lugaw Express merged with Kagayan Appventure and was renamed Find See – an app that helps you find local/nearby stores
4. Local Search Engine to E-Lib – an offline search engine for schools
5. We the Product – an app that lets you rate and review products from different businesses
6. Fastlane – an application for users to order their food online and schedule their orders to eliminate the need to queue
7. Billing Through Cloud Tech. to E-Billution – a web application that speeds up local Water District transactions through an automated system
8. Teacher Soft – a web app for teachers to monitor the progress of their students
9. Touriffic App – an app that lets you know where you are and sends you facts and trivia about nearby tourist spots
10. Secure Deals – a web payment application that ensures the safety of online transactions
11. Abroad Na to Abroad Pinoy – a website that helps professionals in the IT field find jobs or find employees
12. Online Grocery combined with Notification Plus and was renamed to Store2Door – a website that allows users to do their groceries online
At 6PM everyone gathered at the Capitol University Little Theater for the final pitches that were presented in front of a panel of judges.
The judges of SWCdeO were the following:
Robert Smith – Director for IT and Marketing, iZone Technologies
Calen Legaspi – CEO and Co-founder, Orange and Bronze Software Labs
Alvin Gendrano – Director, Developer and Platform Evangelism, Microsoft Philippines
Todd Grannis – CEO of VISP, Inc., President of Cleversoft, Inc.
Daisy Tiu – Co-Founder, Dataworld Computer Center
Eileen San Juan – Local Economic Investment Promotions Officer (LEIPO), City Government of Cagaan de Oro
The Champion of the first SWCDO was Ideacamp. Ideacamp is a crowdfunding website sort of similar to Kickstarter and Indiegogo with a niche of focusing on Filipino-only campaigns. Through Ideacamp, funders can be more aware of what are the Filipino campaigns out there. They also proposed to offer more payment options so low-budget campaigns can have more opportunities to be funded. The Ideacamp team
consists of members Marl Ian Dionaldo, Aaron Lee Yap, and Paul Oliano.
It was then followed by Zayd claiming the First Runner-Up. With their slogan "Empowering the Muslim Community through IT", Zayd is a website dedicated to helping Muslim entrepreneurs in CDO by posting their products on their website for Muslim consumers. This also helps CDO Muslim consumers have an easier way of looking for affordable and nearer sources of Muslim products such as clothes like the hijab. Through the help of Zayd, CDO Muslims may no longer have to travel to faraway Muslim-dominated towns like Marawi to look for and purchase Muslim products. Zein Tolentino, Marie Bulosan and Queen Megio are the people behind Team Zayd.
The last but definitely not the least was 2nd Runner-Up Abroad Pinoy. Abroad Pinoy is a job search website made solely to help people in the IT field find jobs and IT businesses look for qualified employees. What's different about Abroad Pinoy compared to other job search websites is that they offer a feature which allows an applicant to take a test for proper skills assessment. Abroad Pinoy also has a video interview feature that gives applicants a certain length of time to take a video of himself answering a question, which will then be sent to an employer. Members of Team Abroad Pinoy include Junry delos Santos, Doridel Cahanap, L. A. de Dios, Ronel Bongga, Sittie Fahrinah D. Hassan, Johayra B. Macaronsing, and Analiah D. Ismael.
A few other teams were also able to get an honorable mention from the judges. These teams were Secure Deals, Store2Door, E-Billution, and Fast Lane.
Participants and organizers were also asked to tweet/post about the event using the hashtag #SWCdeO in order to win prizes in the raffle draw like Mozilla and DevCon T-shirts. Three participants were also able to win the main All I Want raffle draw.
The official Twitter account of Startup Weekend CDO had a total of 221 tweets and 23 followers. For Twitter there tweets with the #SWCdeO from participants, guests, organizers and basically anyone who joined Startup Weekend CDO.
Total Number of Tweets by Startup Weekend CDO: 221
Total Number of Followers: 23
Total Number of Tweets w/ #SWCdeO: 133
For the Startup Weekend CDO Facebook page, there was a total of 458 likes, and among its estimated 29 posts, here are the top three that had the most likes, comments and shares.
Total Number of Facebook Posts: 29
Total Number of Likes: 458
There were a total of 36 volunteers for this event. 8 people from Syntactics, Inc. and 5 from RedLemon Digital Media, who are members of the CDO ICT Business Council. Developers Connect also contributed 23 volunteers for this event.
The Premier Sponsors of this event: Ideaspace Foundation and Capitol University. Platinum Sponsors were: Microsoft and Arriba Telecontact. Silver Sponsors were: Bohemian Express Travel and Tours, InDinero, Mozilla, Syntactics, Red Lemon Digital Media, Airbnb, All I Want, Barato, Interpace Computer Systems, FBC business Solutions, Centrio Mall, Ayala Malls, Smart Communications, CDO College-Phinma Foundersuite, Dataworld Computer Center and Mr. Ulysses Quider from Universal Robina Corporation.
The Media Sponsors were: Clix, CDO bloggers, Magic 89.3, the CDO Chamber of Commerce and Industry Foundation, iNewMedia, and GMA Northern Mindanao.
We'd also like to extend our special thanks to:
Capitol University for providing the CU Mini Theater and AVRs as the venue for SWCdeO
Smart Communications for providing internet connection at the CU Little Theater
Bohemian Express Travel and Tours for providing a van/coaster that we used as transportation for our VIPs
inDinero for their notebooks, bags, and ballpens that were given away as goodies
Mozilla for their stickers, tattoos and shirts that were given away as goodies/prizes
Syntactics, Inc. for their bags that were given away as goodies
Barato who provided prizes for the All I Want raffle draw
Centrio/Ayala Malls who provided meals for all our guests and VIPs via TGIF Universal Robina Corporationfor providing chips as snacks for the participants and guests
This event was also supported by the Cagayan de Oro Local Government unit and the Department of Trade and Industry.
Startup Weekend Cagayan de Oro ended as a success thanks to the sponsors, media partners judges, mentors, participants and of course the organizations. This success was celebrated during the after party at Lifestyle District.
2,172 total views, 1 views today