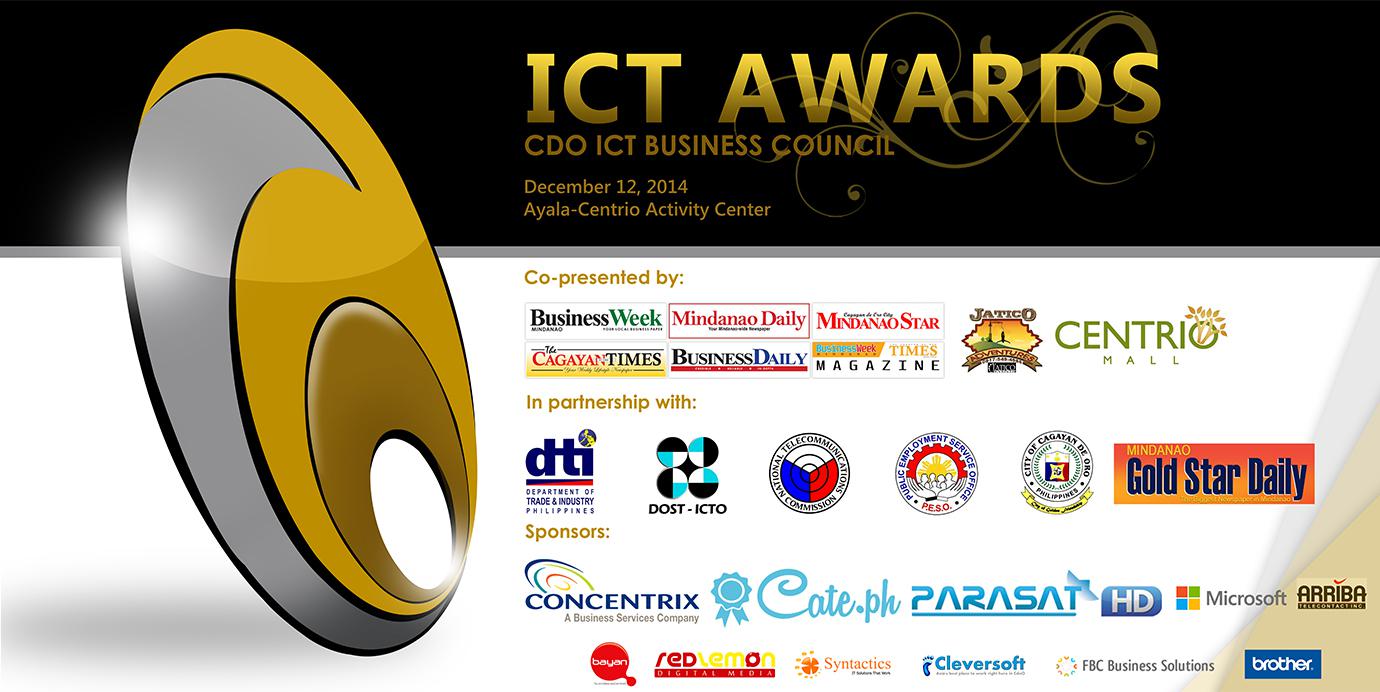 Rationale
The ICT Awards is part of the CDO ICT Business Council initiative, an annual event that is a result of coordinated efforts of members of the Council to appreciate and recognize local ICT stakeholders, organizations, and champions who have significantly made a mark in the ICT industry and community, pushed forward towards citywide growth and support, and embraced innovation.
ICT Champion Award of the Year
Engr. Elpidio M. Paras, Stephanie Rosalind P. Caragos, Daisy C. Tiu

Movers and Shakers
Voice
Concentrix-CDO
FBC Business Solutions
Arriba Telecontact
Non-voice
Cleversoft
Redlemon Digital Media
Syntactics
Innovuze Solutions
Suppliers
Dataworld
Interpace Computer Systems
Brother
Microsoft
Infrastructure
Parasat
SMART
Bayantel
Academe
Capitol University
Mindanao University of Science and Technology
COC-PHINMA
PCCI-CDO
Organizations
CDO Bloggers
DevCon
Locations/Media Support
Ayala-Centrio
GMA
Startups
Webnified
Ideacamp
Orderee
SMSBlastr
Special Recognition
Google Business Group (TBC)
Google Developers Group (TBC)
CDO-ITG (TBC)
Top Business Websites
smsblastr.com
clix.com.ph
barato.com.ph
chalibeachresort.com
limketkailuxe.com
Top CDO Blogs
cdodev.com
bestspotsph.com (Clement Dampal)
wowcdo.com (Vic madriaga)
mindanaoan.com (Irene Aserios)
cdopedia.com (Eldie Aban)
Top Schools as BPO Resource
Xavier University-Ateneo de Cagayan
Mindanao University of Science and Technology
Capitol University
Liceo de Cagayan University
Cagayan de Oro College-PHINMA Education Network
ICT Awards Proper Program Flow
OPENING (10AM)
Welcome Message
Stephanie P. Caragos
President, CDO ICT
CEO & President, Syntactics
Ribbon Cutting Ceremony
JOB FAIR (10:10AM-5PM),  IT QUIZ TRIVIA (2PM-4PM),  AWARDING (5PM-7PM)
Opening Remarks
Introduction / Purpose / Who We Are
Stephanie P. Caragos
President CDO ICT, CEO & President, Syntactics
Accomplishments
Gus Rodano
Secretary, CDO ICT, CEO, Redlemon Digital Media
Introduction of Keynote Speaker
Alexander Paras
Treasurer, CDO ICT Operations Manager,
Arriba Telecontact
Keynote Speaker
Mr. Ramil Cabaces
Site Director of Concentrix CDO/DVO
Special Message
Usman Aragasi
Director, DOST-ICTO Mindanao Cluster 2
Awarding Proper (Batch 1)
Top Websites in CDO

-Top 5 Blogs
-Top 5 Business websites

Schools as BPO Resource

Special Message
Ma. Eliza Pabillore
Provincial Director/DTI-MISOR
Special Message
Eileen Escobar-San Juan
LEIPO, CDO
Awarding Proper (Batch 2)
Movers and Shakers in ICT
Acknowledge Government Partners
NTC, DTI, LGU, ICTO, PESO
Closing Remarks
Todd Grannis
Vice-President, CDO ICT, CEO, Cleversoft Inc.