Imagine Cup Competition 2014: Philippines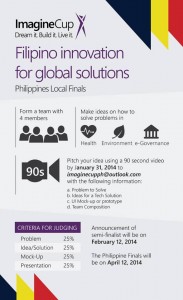 We are very pleased to inform you that we just officially launched the local finals leg of Imagine Cup Philippines 2014. Imagine Cup is Microsoft's premier student technology competition that has been inspiring students who are passionate with technology and keen on solving the world's toughest problems through technology. Now on its 12th year, Imagine Cup returns with three (3) big competitions: Innovation, World Citizenship and Games.
To make the national footprint of Imagine Cup 2014 stronger and larger in scale, Microsoft Philippines partnered with the Department of Science and Technology – Information and Communications Technology Office Philippines (DOST – ICTO). The focus themes for the Philippine local finals are Health, Environment and E-Governance (efficient delivery of government services).
Winning team per competition in the Philippine Local Finals will receive Php50,000 and Bizspark packages. Winners of Innovation and World Citizenship are entitled to receive devices. All winning teams will be entitled to compete in the Online World Semi-finals. The Global in-person competition will happen in Seattle where winners per competition will receive $50,000 or approximately Php2M.
We believe that Imagine Cup is a great opportunity to inspire innovation, grow student developers and drive entrepreneurship. With this, we would like to seek your support to market this competition within your school/community. Attached are files of the materials that you may use to evangelize the competition. To access posters, please go to http://sdrv.ms/192ad0J.
To participate, please encourage students from your schools to do the following byJanuary 31, 2014:
Form their teams (4 members)
Register their teams at imaginecup.com (http://www.imaginecup.com)
Formulate their ideas on how to solve problems in Health, Environment/Natural Disasters, e-Government using technology like mobile apps, cloud technology, social, big data, etc.
The top 15 teams will qualify for the Philippine Finals in April and will be mentored to complete their prototype.
The first deadline date is on January 25, 2014, we need your help to generate awareness about Imagine Cup as soon as possible. More details are posted on http://aka.ms/ICup2014FB.
For further queries, you may email . Thank you and looking forward for your support.
-MICROSOFT Philippines, DOST-ICTO
1,620 total views, 1 views today